Warnow Tunnel
Warnow Tunnel is located in the city of Rostock in north-eastern Germany.
| | |
| --- | --- |
| Location | Rostock, Germany |
| Road Opened | 2003 |
| Length | 2.1 kilometres |
| Number of lanes | Two lanes in each direction |
| Tolling structure | Tolling increases linked to pre-tax equity IRR |
| Toll collection | Cash and electronic tolling |
| Concession expiry | |
| Related links | |
The Warnow Tunnel is a 2.1 kilometre toll road, including a 0.8 kilometre tunnel under the Warnow River, which opened to traffic in September 2003.
At the time of investment, Rostock was the largest of seven Baltic ports and the fourth largest German port. The road allows users to cross under the Warnow River which divides Rostock. Most of the residential areas are located on the western side and most of the industrial areas are on the eastern side of the river. This includes the Rostock Port, a roll on roll off freight and passenger ferry port for Baltic shipping, a bulk port, Cruise Terminal with up to 5 ships a day in the summer peak as well as a growing bulk retail centre.
ALX has a 100% interest in the concessionaire Warnowquerung GmbH & Co. KG (WQG), the concessionaire partnership, and its general partner.
Concessionaire ownership structure
Warnowquerung GmbH & Co. KG (WQG) owns the concession to operate Warnow Tunnel for 50 years from construction completion. A 20-year extension to the original 30-year concession was formally granted by the City of Rostock in February 2007, resulting in a concession expiry of 12 September 2053.
WQG is managed by the general partner, Warnowquerung Verwaltungsgesellschaft mbH. The general partner has unlimited liability.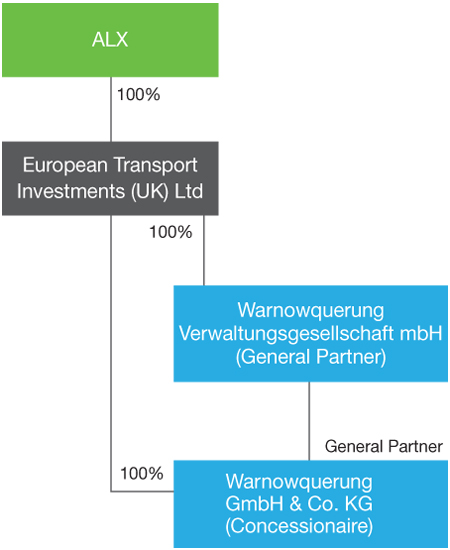 Ownership History
Macquarie Infrastructure Group (MIG) acquired its ownership interest in Warnow Tunnel in December 2000 through ETI, which was assumed by ALX on 2 February 2010 as part of the MIG demerger.
Since inception, ALX has held a 70% equity interest in the Warnow Tunnel. In August 2018 ALX acquired the remaining 30% equity interest
Road Configuration
The Warnow Tunnel has two lanes in each direction. The main toll plaza, located on the eastern side of the tunnel, has five lanes in each direction plus one bi-directional lane (eleven in total). The bi-directional lane can switch directions to accommodate additional traffic volumes during peak periods. ETC is available in all eleven lanes, with two lanes dedicated to ETC only.
The road allows users to cross under the Warnow River which divides Rostock. Alternative options to cross the Warnow River include ferries, which take more than 15 minutes to complete the crossing, or a 19 kilometre journey via untolled roads through the Rostock central shopping precinct which can be subject to delays during peak periods.
Tolling Structure
There are five vehicle categories for the payment of tolls on the Warnow Tunnel as outlined in the below table.
Class
Vehicle type
1
Passenger car, motorcycle
2
Minibus, small transporters
3
Truck (2-axle)
4
Truck (3-axle)
5
Truck (4-axle)
Coach (>16 seats)
Tolls for all five vehicle categories are set as a function of the base light vehicle toll. Seasonal tolling rates apply to cash payments and vary between winter and summer months, while ETC toll rates remain the same all year round. Refer to factsheet for further details.
Toll are set semi-annually in May and November using the below formula based on whether the forecast pre-tax equity IRR is:
> 25%: Tolls remain fixed
17–25%: Tolls may increase by CPI
< 17%: Tolls may increase by greater than CPI
Toll increases are subject to joint approval by the Federal Ministry of Transport in Germany and the Supreme Highway Construction Authority of the Land of Mecklenburg-Vorpommern.