Overview of legal framework
Atlas Arteria is a dual stapled vehicle. It was established in early February 2010 as a result of a security holder approved restructure of Macquarie Infrastructure Group (MIG). Atlas Arteria was externally managed by Macquarie Fund Advisers Pty Limited until 31 March 2019 when the entity transitioned to its current management team. This followed approval by security holders to internalise management on 15 May 2018.
Atlas Arteria comprises Atlas Arteria Limited (ACN 141 075 201) (ATLAX), an Australian public company, and Atlas Arteria International Limited (Registration No. 43828) (ATLIX), an exempted mutual fund company incorporated in Bermuda. Atlas Arteria is listed as a stapled structure on the Australian Securities Exchange (ASX). The securities of ATLAX and ATLIX are stapled and must trade and otherwise be dealt with together.
Atlas Arteria Structure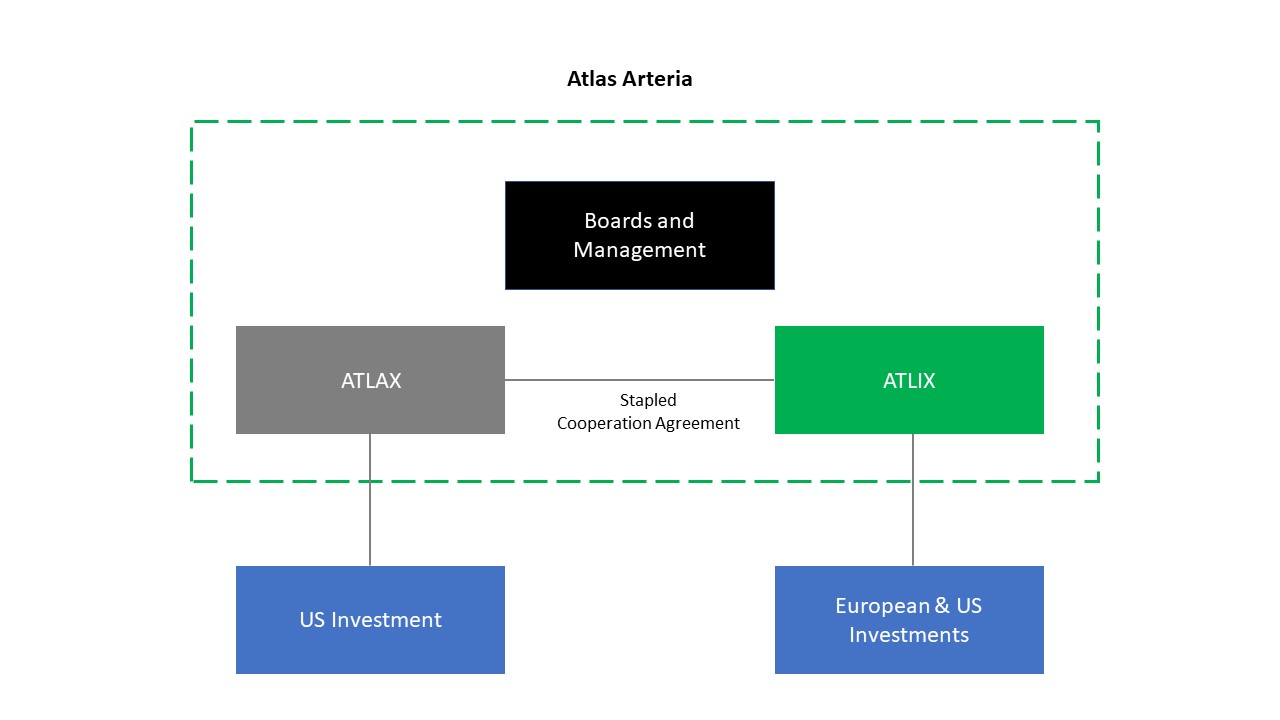 Atlas Arteria seeks to:
deliver growth in the value of the existing Atlas Arteria businesses through active management of project operations to improve earnings, efficient capital management and the refinancing of project debt as suitable opportunities emerge over the medium term
identify and access accretive opportunities that will complement the existing portfolio.
| Entity | Type of Entity | Asset (various % holdings) | Source of Income |
| --- | --- | --- | --- |
| ATLAX | Australia public company | Dulles Greenway1 | ATLAX derives its income primarily from its businesses |
| ATLIX | Bermudan exempted mutual fund company | APRR, Dulles Greenway2, Warnow Tunnel | ATLIX derives its income primarily from returns from its businesses |
1. holds a 13.4% shareholding
2. holds a ~ 86.6% economic interest through subordinated loans.
Atlas Arteria Management and Advisory Agreements
Atlas Arteria was externally managed by Macquarie Fund Advisors Pty Limited (MAF) until 31 March 2019. ATLAX and ATLIX terminated the Management/Advisory Agreements on 1 April 2019 and management of Atlas Arteria transitioned to its current management team.
In accordance with the terms of the Atlas Arteria Management/Advisory Agreements base fees were paid to MFA until 15 May 2019.
Additionally, ATLAX and ATLIX entered into a Transition Services Agreement with the MFA from 16 May 2019 until 31 December 2019 for a monthly fee of $750,000.
Asset level management and performance fees were payable by Atlas Arteria to Macquarie from 16 May 2019 in respect of Atlas Arteria's investment in APRR, until 2 March 2020 when Macquarie's management of the APRR Investment was terminated.